May 2022
Catalyst Spotlight: Mona Pappafava-Ray on Transforming Through Meditation
Name: Mona Pappafava-Ray
Occupation: Business Owner – General Carbide Corporation, PremaTech Advanced Ceramics, Advanced Silicon Carbide
Location: Pennsylvania, Massachusetts, Hawaii
What led you to meditation? In August of 2019 my mother passed away, after 7 years of battling cancer and various other ailments, requiring her to receive full time in-home care.  During that time, I managed her care, her homes and her financial affairs.  My phone never left my side, and I received numerous calls daily.  After she passed, I was unable to properly digest food and was suffering from what I now know was a form of PTSD.  I discovered Dr. Joe's book, Becoming Supernatural in the Summer of 2020 and read it like a person reads a scientific journal.  I highlighted sections and took notes and I walked around with the book and my notebook like it was my lifeline.  When I was nearly finished, I decided to try meditating and started with the "Blessing of the Energy Centers."  
Within a few weeks, I was able to digest food again!  I found it to be miraculous that by just concentrating on my energy centers and sending love and suggestions to them – especially the lower three — I was able to heal my condition.  Now I can eat anything again… a blessing and a curse I suppose!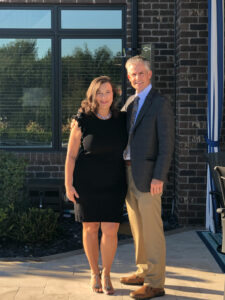 How has meditation impacted your life? After I healed from my digestive issues, I attended the advanced follow up in Marco Island. When I returned home, my husband and daughter were waiting for me at the bottom of the escalator in baggage claim.  They were expecting me to give a quick hug and kiss and head off to get my baggage, because I am always focused and moving.  But instead, I stopped, embraced them each for quite a while, looked into their eyes, and savored the moment of reunion with them.  They couldn't believe my transformation.  I think my husband was wondering if it was really me!!!  I was so full of joy and had such a renewed outlook on life.  My husband was so impressed with the change in me that he booked an Advanced Retreat for himself and attended in Orlando that same year in March.
Why do you support InnerScience Research Fund? Both my husband and I have a deep yearning to help others heal.  We have been so blessed in our lives with good health and abundance and very much want to use that abundance to help others live their most whole lives.  We are excited about the research at Dr. Joe's meditation retreats, which have helped so many people heal – many of them miraculously.
How do you help spread the word about InnerScience? I don't think there is anyone that knows us that doesn't know about meditation, Dr. Joe's work and InnerScience Research Fund!  We are becoming quite boring (or as I like to call it, "delightfully helpful") at cocktail parties and dinners.  We want everyone to know about what we are learning and how it is transforming the lives of so many people.
Our groundbreaking research is showing ordinary people doing the extraordinary — changing their physiology, changing their biological markers, and changing their lives — not with a pill, but with the power of meditation.
We think the implications can change the world, and we invite you to become a catalyst for change by joining our community of recurring donors.